BEMER THERAPY
We are proud to offer the BEMER Therapy Sessions as an additional treatment to your other clinical therapies within the clinic or solely as a treatment to help with boosting your health & wellness. The BEMER Therapy is designed to improve circulation in your body to optimize your body's natural healing capabilities.
DROP-IN BEMER SESSION
​20 MINUTES
​$40+ tax
BEMER THERAPY PUNCH PASS X 6
​20 MINUTE SESSIONS
​$200+ tax
SINGLE BEMER
SESSION With Localized Treatment
​20 MINUTES
​$50*
MASSAGE & BEMER 50 MIN
​30 MINUTES +20 MIN BEMER
$125
COLONICS & BEMER 65 MIN
45 MINUTES + 20 MIN BEMER
​$130
LIVE BLOOD ANALYSIS & BEMER 30 MIN
​1hr +30 MIN BEMER
$330
THE IMPORTANCE OF GOOD CIRCULATION
Better Circulation. Better Health. Better Life. BEMER is changing the way we think about our health, challenging our understanding of the human body, and empowering us to reach optimal physical condition in a non-invasive way. Blood flow plays a critical role in our general health. BEMER can stimulate healthy muscles in order to improve and facilitate muscle performance and temporarily improve local circulation in healthy leg muscles — in just 8 minutes twice a day. For more than 20 years, the benefits of BEMER have impacted millions of people around the world. BEMER is an FDA Class II cleared consumer medical device that is non-invasive and easy to use.
WHAT IS BEMER?
Healthy circulation is vital to optimal health. Stimulating healthy muscles and temporarily increasing blood circulation in healthy leg muscles is the primary goal of BEMER, to support muscular health and optimize performance.*
BEMER devices use a pulsed electromagnetic field – abbreviated as PEMF – to deliver a patented therapeutic signal.
THE BENEFITS OF BEMER IN JUST EIGHT MINUTES, TWICE A DAY
"The best part about BEMER is that it's so easy to use. In just eight minutes, twice a day, the patented BEMER signal will stimulate your muscle cells for better health and wellness."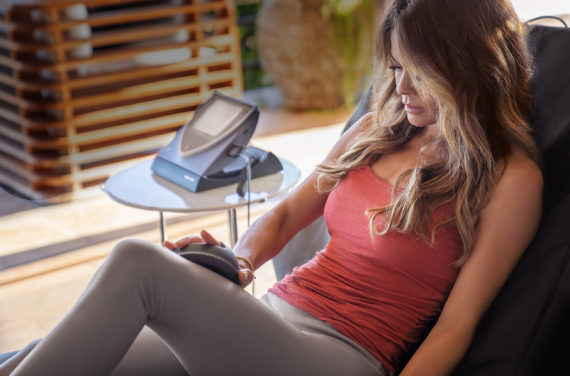 LEARN MORE ABOUT
BEMER THERAPY
BEMER devices are designed to improve circulation and support the body's natural self-regulating processes. Blood is the body's universal means of transport; oxygen, nutrients, chemical messengers (e.g., hormones) and immune cells are all transported through our blood. When our body's cells, tissues and organs are adequately nourished and metabolic waste products are removed, our bodies become healthy and function properly. Learn More